SPECIAL CARE FOR SPECIAL ITEMS
White-Glove Pickup and Delivery Service in Birmingham/Tuscaloosa
Some items require an especially high degree of care. Our white-glove service ensures that high-value, fragile, or one-of-a-kind items are handled carefully and delivered safely to their destination.
Craters & Freighters has helped hundreds of customers who need a level of service that demands more attention. From artwork to antiques to sensitive items, you can trust us to manage these pieces from start to finish. Our team takes painstaking care and delivers detailed, conscientious service that you can count on.
Careful Handling of Your Valuables
Our teams ensure that every item we handle is fully protected. But, with our white-glove service, your valuables and your home or office receive an extra degree of care.
Plus, you get reassuring peace of mind in knowing that the team that assists you has one goal: making sure your items arrive on-time and undamaged.
White-Glove Pickup & Delivery Services
Craters & Freighters' white-glove service offers comprehensive solutions to items that need a more methodical approach. Our shipping professionals are industry leaders, acutely dedicated to complex projects and discerning clients.
We welcome clients of all kinds and are proud to work with a wide range of industries that use our white-glove services, including:
We understand that sometimes your items hold much more than economic value. Our packing specialists will employ custom, white-glove crating and packaging tactics that cater to your goals. With meticulous management and thoughtful attention to detail, your valuables are safe in our hands every step of the way.
If you're looking for the best white-glove shipping services in Birmingham, we invite you to reach out to us. We have the solutions you need and the team you want for a streamlined, efficient shipping experience.
On-Site Crating
With fragile, sensitive, and valuable pieces come a lot of responsibility. If you're concerned about transporting any of these items to our facility for packaging, let us go to yours.
Our on-site crating solutions ensure your assets are protected at all times, keeping them within our reach and allowing us to pull from our decades-long experience handling the most challenging items. We have everything we need to meet your precise packaging and containing needs at your location.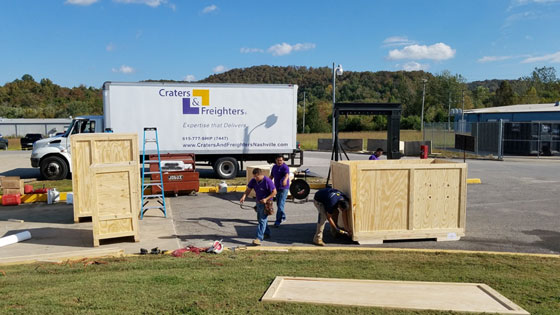 Get a fast, free, no-obligation cost estimate from Craters & Freighters Birmingham/Tuscaloosa.
Provide some information on your needs, and we'll get back to you right away with a figure you can use in your planning. Serving most of Tennessee and Alabama, including Nashville, Chattanooga, and the rest of the United States!