PROFESSIONAL AIR FREIGHT SHIPPING EXPERTISE
Air Freight Shipping Services Out of Birmingham, AL
At Craters & Freighters, we've managed the successful air transport of thousands of items. Whether traveling within the U.S. to Europe, Asia, or just about anywhere, our team will ensure your valuables are safe and secure for a responsible shipping journey and a damage-free arrival.
We utilize our 65+ nationwide locations and our strong global network to keep items within our reach, giving us the responsibility and accountability that provide confidence to our customers.
Combine our packing and shipping standards with our attention to detail, comprehensive services, logistics teams, and customer support, and you won't be disappointed that you trusted us with your shipping project. We invite oversized, sensitive, highly valuable pieces and never turn away from a challenge. Our shipping professionals get the job done right the first time because we understand and never underestimate the rigors of the shipping stream.
Our Birmingham team has handled the successful air freight shipment of all types of assets:
If you're looking for experience and dedication to your unique shipment, you can stop your look with us. We're Birmingham's best air freight shipping company.
Air Freight Travel
Craters & Freighters air freight transportation is flexible and reliable, with a range of schedules and routes to choose from to ensure timely delivery. Air freight forwarding is crucial to the global market, and we have the equipment and experience necessary to keep up with its demands.
Our shipping professionals will handle the logistics of your shipment, inclusive of relations with carriers, customs, documentation, and regulation compliance. Let us make your air freight shipment painless and stress-free.
"Bug Stamp" Crates
Each of our crates is designed and built using safe, effective, and certified wood that can easily gain access into its country of destination. Our ISPM 15 heat-treated wood crates have the "bug stamp" (the ISPM 15 stamp), which means our containers will meet the international shipping criteria and codes.
The packaging and shipping process used at our Birmingham international shipping company includes the completion of all paperwork, monthly warehouse inspections, and teams with the knowledge to get your items safely through the skies. Your peace of mind is our ultimate goal, and we plan to deliver.
Custom Crating and Packing Plans
To achieve a smart, successful shipment, the crating and packaging of your item must be precise. We use our decades-long experience, ingenuity, and technology to design and engineer packing schemes that protect the most fragile and bulky of items.
When engineering our custom wood containers and packaging, we account for the item's:
Weight
Dimensions
Fragility
Final destination
Mode of transportation
Considering the specs of your belongings helps us determine the most effective way to pack and ship your items. Your air freight project needs a proactive approach to keep it safe through transit, and our team is qualified to create a meticulous scheme of protection.
Finding the best supports, blocking, bracing, and cushioning, your valuables will stay secure throughout their journey, no matter how turbulent the transit gets.
On-Site Custom Crating and Packaging
Birmingham's Craters & Freighters works with various industries that need their heavy, large, or sensitive equipment custom packaged. Sometimes, it's impossible for our customers to get those items safely to our facility. That's okay. We can come to you.
We have all we need to build your crate on-site at your location. We use the same high-quality materials and spec-driven technology programs at your location as we use at our warehouse, so you never have to worry that the integrity of your on-site packaging plan is sacrificed. Our air freight packing experts are here to manage your shipment from start to finish, however you need us to.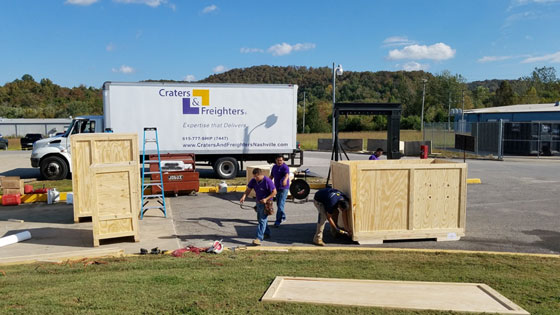 Delivery Options and Shipping Services
Our shipping services are world-renowned, holistic, and efficient. The shipping specialists on our team are devoted to the safe transportation and arrival of your item. Let our professionals use our skillset, equipment, and know-how to get your project completed smoothly and to perfection.
Some of our comprehensive shipping services include:
Door-to-port
Port-to-port
Two-day shipping
Shipping insurance coverage is available
ISPM 15 certified wood crates
Moisture-prevention bagging/vapor barrier bagging
Less than container load, for smaller exports
Full container load, for larger exports
Complete documentation and custom forms completion
We're leaders in the shipping industry due to the demanding shipments we take on, the thoughtful care we put into every part of the shipping process, and the trusting relationships we build with our customers. Whether you need residential crating and shipping or commercial crating and shipping, Craters & Freighters is here to help. Contact us today and let's get your assets where they need to be.
Want to learn more about our shipping options? Check out our ocean shipping process, and call us to learn how we can best handle your project.
Get a fast, free, no-obligation cost estimate from Craters & Freighters.
Provide some information on your needs, and we'll get back to you right away with a figure you can use in your planning. Serving most of Tennessee and Alabama, including Nashville, Chattanooga, and the rest of the United States!