Manufacturing Equipment Shipping
TRUSTED BY MANUFACTURERS
Manufacturing Equipment Crating & Shipping in Birmingham/Tuscaloosa
Shipping large, heavy, and mechanically sensitive equipment requires the insights of a company that specializes in packaging, crating, and shipping solutions for the most challenging projects.
If you're looking for experience and quality for your manufacturing equipment crating and shipping or your industrial equipment crating and shipping, our specialists deliver. We've been serving local manufacturers for years, and we remain committed to each new project from start to finish.
Craters & Freighters is respected worldwide for our comprehensive solutions to any shipping need. Our teams work with various manufacturing industries and understand the needs of these complex and oversized jobs. We utilize the latest technology, machinery, and equipment to ensure your assets are kept safe throughout crating, packaging, and transport.
Spec-Driven Packaging
Our designers and engineers develop packaging and crating solutions customized for each asset. Our approach to your project is always unique, no matter how many times we've shipped the same item. We always start afresh, using spec-driven programs, decades-long experience, and high-quality materials for the ultimate results.
Using advanced software, the packaging and crating needs of your items are met to perfection. We focus on the specs of the item but consider several other factors, including mode of transportation and final destination, to ensure a successful shipment.
Our team will account for your personal goals and needs when designing your shipping plan, as well. You can rely on our top-of-the-line technology, an array of manufacturing and industrial equipment crating and shipping services, logistic team, and customer support to keep your equipment meticulously protected. But more than that, you get on-time arrival and a crating and shipping team that offers accountability.
On-Site Crating, Packaging, & Rigging
If you can't get to one of our 65+ nationwide locations, we offer on-site crating services at your place of business. Having aided in hundreds of oversized manufacturing equipment projects, we've learned that getting these pieces to our facility is often impossible to do safely, and we say, don't try it. Let us come to your facility to design and build your custom crating and packaging.
Our crating professionals have everything you could need to ensure the packaging job is done just as well at your business as it would be at ours. We use the same spec-driven technology and high-quality materials to engineer the perfect container and supports.
If needed, we also offer rigging and other specialized equipment services to further protect your assets.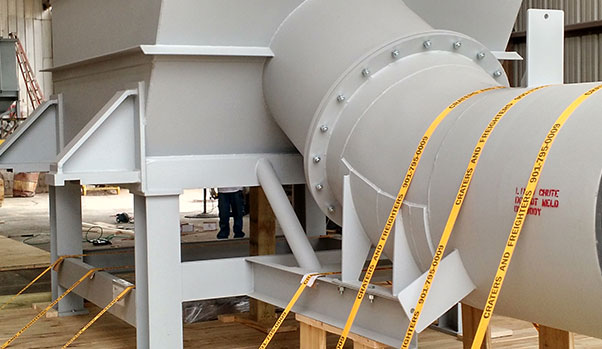 Equipment & Machinery Packaging, Crating & Shipping Solutions
Craters & Freighters Birmingham/Tuscaloosa also serves as a one-source solution for domestic or international shipping arrangements.
Our streamlined services are intended to take out any guesswork on your part; we're here to support you as much or as little as you need. We hope to provide you with confidence and dependability throughout the shipping process.
Some of the solutions we offer include:
Industrial Equipment & Machinery 
We understand you have choices when it comes to your shipping project, but if you're looking for the best industrial equipment and machinery crating company in Birmingham, your search can end now.
Our experience is unrivaled, and our customer service can't be beat. We're proud to support various local businesses with their machinery shipping needs.
Some organizations that trust us with their crating and shipping solutions include:
We will safely and efficiently get your oversized, heavy, awkward assets wherever they need to go, by air, land, or sea.
Get a fast, free, no-obligation cost estimate from Craters & Freighters.
Provide some information on your needs, and we'll get back to you right away with a figure you can use in your planning. Serving most of Tennessee and Alabama, including Nashville, Chattanooga, and the rest of the United States!