MOVING CARGO AND VALUABLES COAST TO COAST
United States Domestic Shipping Services out of Birmingham/Tuscaloosa
Whether you need items shipped to the Birmingham/Tuscaloosa area or from the Birmingham/Tuscaloosa area to any location nationwide, Craters & Freighters' network of more than 65+ locations across the country can assist with any of your domestic shipping needs.
Our domestic shipping company in Birmingham offers comprehensive national shipping solutions, including custom crating, on-site crating, and white-glove services.
We handle items that are too heavy, large, fragile, or awkward for other shippers with ease. We can also provide declared value cargo insurance that covers your shipment from pickup through delivery upon request.
If you think your national shipping project is too complex or challenging to be shipped successfully, call us. We don't shy away from demanding jobs.
A Recognized Industry Leader
Craters & Freighters was a pioneer in crating, packaging, and domestic shipping services three decades ago. Today we continue to lead the way in providing high-quality, customized shipping solutions to meet any need.
Our shipping and crating professionals use the latest spec-driven technology, years of experience, and keen attention to detail to determine the best shipping and containing solutions for your assets. We will not sacrifice integrity, and our team will prove it to you.
Whether you need your industrial machinery shipped across town, your medical equipment shipped across the state, or your fine art shipped across the country, our shipping specialists will get the job done with ease.
The Full Spectrum of Domestic Shipping Services
With our pickup and delivery service, we can deliver customized crates to your place of business to simplify your shipping or storage.
Same-day
Next-day
Two-day
Standard economy, three- to five-day
Door-to-door
Door-to-airport
Craters & Freighters is a one-stop shop for your domestic shipping project. We have the services that businesses, industries, and individuals have to come to rely on.
We're trusted nationwide for our damage-free and on-time deliveries. We handle the most fragile, hazardous, and sensitive assets with the delicacy and respect necessary to ensure safety.
Our teams work with various industries, including: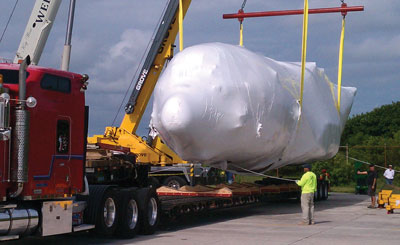 You can trust your national shipping project with us as well. Our logistics support and customer service are unrivaled, and our services and principles surpass industry standards. Let us safely get your assets where they need to go.
Get a fast, free, no-obligation cost estimate from Craters & Freighters.
Provide some information on your needs, and we'll get back to you right away with a figure you can use in your planning. Serving most of Tennessee and Alabama, including Nashville, Chattanooga, and the rest of the United States!